To achieve any waste diversion goals, you must first understand the material that makes up your waste stream. Grab some of your trash or recycling bins and do a waste sort. This waste sort will provide you valuable data on what materials you need to divert from the landfill.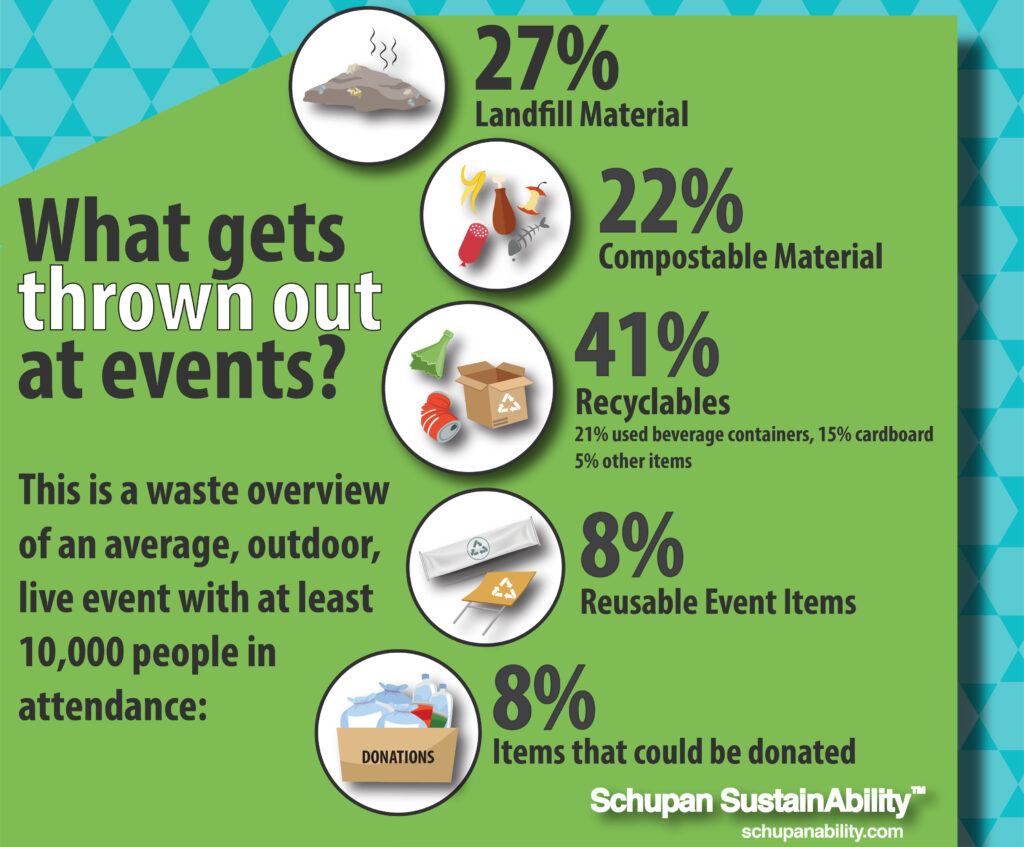 Your type of event heavily influences your waste. Music festivals and industry tradeshows produce a different type of waste stream than a community art fair, a three day conference at a hotel or a football game.

From our previous blog post on determining your sustainability needs, we listed five environmental evaluations with the first being recycling and compost programs. Recycling and composting will lead to your greatest amount of waste reduction and therefore, dramatically increase your waste diversion rate. Other diversion strategies include donations and reuse. With more than 50% of your waste stream more than likely being recyclable or compostable, building your waste reduction program is a great place to start for your sustainability program.
Step 1: Determine what you can divert from the landfill, not necessarily what you want to divert.
On average, there are four primary materials events produce. In your self-assessment, take note of the largest quantity of materials you produce and focus on capturing those.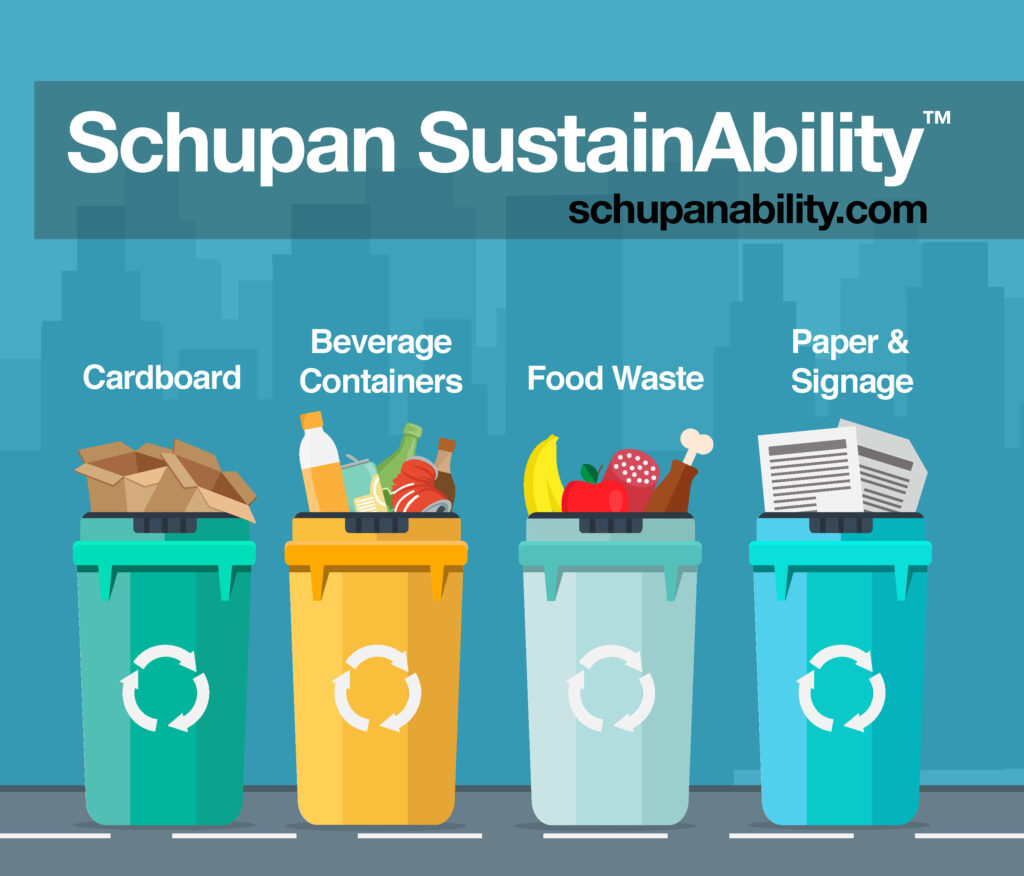 Cardboard. Vendors often times discard cardboard with their food packaging products and the event staff discards cardboard from their prep materials (such as volunteer t-shirt boxes, brochures, etc). Cardboard will almost always be produced back of house.
Beverage containers. How are your attendees consuming drinks at the event? Are you serving bottles/cans to your attendees or pouring drinks from behind the bar where empty glass bottles of wine, liquor, or beer will be located?
Food waste. The majority of food waste will be produced by your food vendors during food prep and end of the event with unsold food items.
Paper and Signage. Events produce marketing materials in brochures, programs, posters and nearly every event has an "event office" of some sort. Do you have a paper recycling bin in your event office for discarded paper? What happens to your leftover event brochures, posters, and programs? All that signage you create for directions and booths…what happens to it all?
Recycling:
What products are vendors bringing in and discarding?
Are your attendees consuming their beverages in the bottle/can, plastic cups, or Styrofoam cups?
Are you discarding a lot of cardboard boxes from volunteer t-shirts, supplies, programs/brochures?
Are you throwing away a lot of signage after each event?
Composting:
What type of food vendors do you have on-site?
Are your food vendors prepping food on-site or off-site?
Do you have catered meals?
Do you provide boxed lunches or dinners for your staff/crew?
What type of wildlife do you have in the area?
Step 2: What location are you going to deliver the material to?
As important as it is to collect the recyclables, transporting them off-site to a recycling center is the hardest logistical part of any sustainability program. As you determine which commodities you want to recycle and compost, contact your local event sustainability partners, recycling centers or city or county programs and be sure to ask these three questions:
What commodities do you accept? Determine what material they can actually accept within their facility. Not all recycling centers, programs, or event sustainability partners have the capability to recycle all commodities. Some compost facilities can only accept a certain amount of food or certain kinds.
How do you accept the commodities? Some recycling facilities cannot accept bags with recyclables inside. Others may have restrictions such as plastic and aluminum have to be separated.
What is their availability to accept the material from your event? Event clean-up often happens on weekends, in the early hours of the day or late at night. Be sure to check the operating days and hours and confirm with staff before making assumptions on drop off times.
Step 3: How are you going to transfer the commodity to the recycler or composter? The back of a pick-up truck? A trailer? A rented container such as a roll-off from your local waste hauler or city? Things to consider:
Safety. Safety should ALWAYS come first. Secure your loads before driving if you are transporting material in the open bed of a pick-up truck or within an enclosed cargo trailer. If you are transporting glass or food waste, be sure to protect yourself with gloves and wash your hands after handling any recycled commodity.
Weight. If you are collecting glass or a large amount of paper products, how do you plan on taking care of the heavy lifting? Will you have access to a forklift? Will your tow vehicle or trailer be able to handle the weight of the load?
Step 4: Determine how you are going to collect the recyclables and compost.
You have decided want you can recycle and compost and a facility to accept the material. The materials you choose to collect will determine which type of recycling bin is best suited for your needs. You can purchase your own set of bins, rent bins from a supplier, purchase cardboard event boxes or create your own recycling bins from existing trash cans.
Important Note:
Food waste collection for front of house and back of house are very different and their designs are unique. We'll discuss food waste collection more in-depth in later posts.