It's the most wonderful time of year and as we all make our holiday plans, we can all make choices to be more sustainable citizens. From Thanksgiving through the New Year, we will produce 25-30% more trash on average, with 85-95% comprised of material that can be diverted from the landfill through re-use, donation, recycle and compost programs. With thousands of small choices we make every day, we have the power to make small impacts, which add up to powerful results.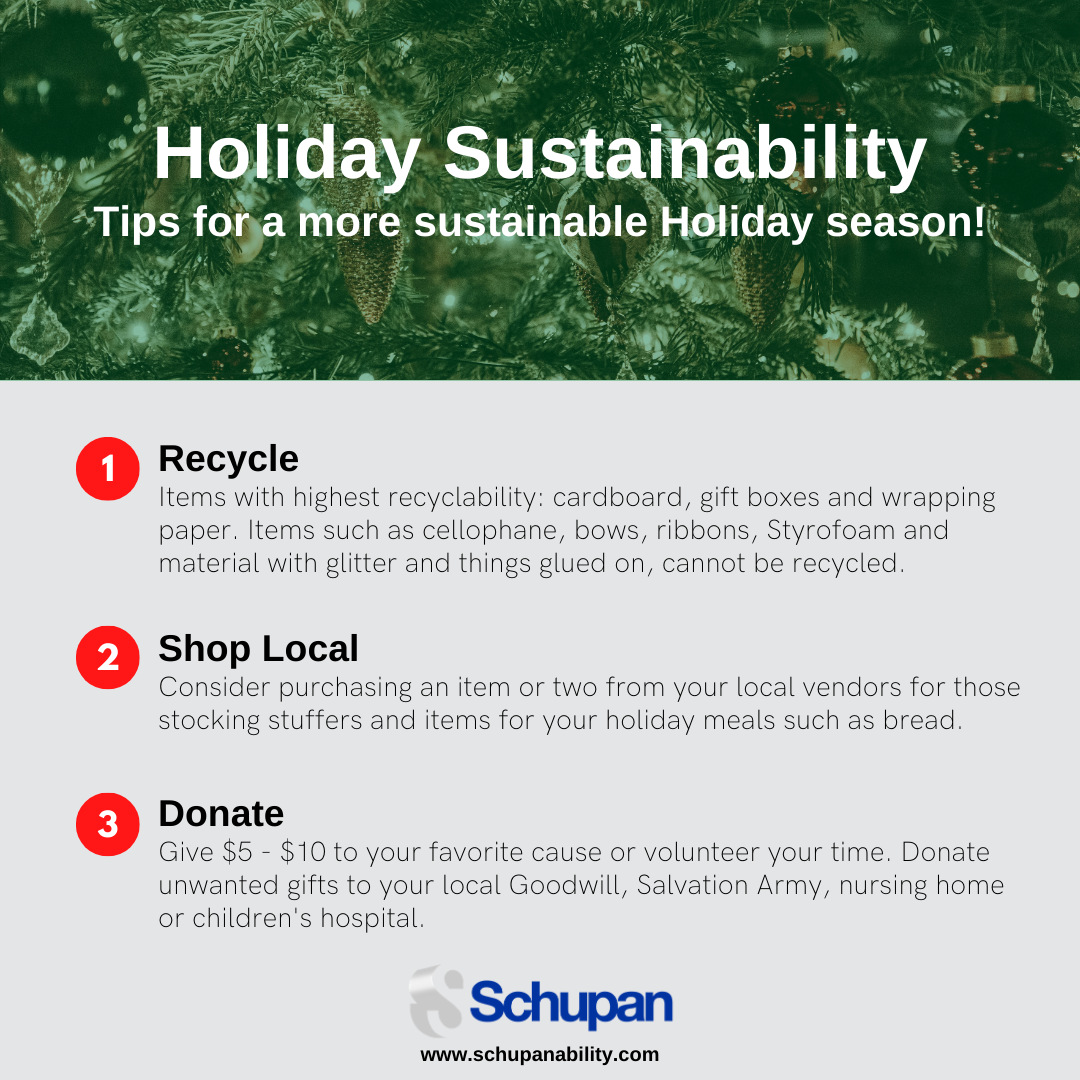 Good Citizenry
Shop Local – our local restaurants and stores need our business now more than ever. Consider purchasing your stocking stuffers, gift cards and other items from your local store.
Farm to table holiday dinner – When planning your holiday meals, can you buy food from local vendors. Think about the local bakery for your baguette, the local farm for your honey, and the local butcher for your meat.
Donate. If you have a favorite charity or philanthropic endeavor, consider donating $5-$10 or volunteering your time.
Recycling
The vast majority of the items consumed at Christmas can be recycled. Unsure what material can be recycled, check out our blog post Introduction to Recycling.
Purchase gift boxes that can be reused. These include the use of metal tins rather than plastic containers.
Ensure your wrapping paper can be recycled. Wrapping paper that is waxed or contains non paper elements such as glitter, cannot be recycled.
When packing your gifts, be sure to avoid Styrofoam padding such as packing peanuts. Packing peanuts and other Styrofoam products cannot be readily recycled. Try packing with paper or with plastic film air pockets. The paper and plastic film can be recycled.
Clean out your food containers. After emptying a food container, such as a steel can or plastic jar, rinse out the container before placing it in your recycling bin. The presence of food decreases the recyclability of your container.
Avoid fancy gift wrapping. Cellophane, bows, bags and wrapping paper with glitter, cannot be recycled.
Check what is accepted with your local recycler. Double check with your curbside provider on what items can be accepted. If it's not on the list, don't throw it in the bin!
Composting
Proper set-up for your composting system in your kitchen will help to collect the proper food types and avoid contamination.
Avoid contamination by clearly labeling your collection bins.
Check facility drop-off dates for open hours. With the holidays, facilities and curbside pick-ups can change. Make sure you are aware of your local composter's hours to avoid rotten food.
Secure your compost bin. Make sure the lids are on tight and secure to avoid spills and animal encounters (if you are storing material outside).
Donate
Save items to be re-gifted. Did you end up with that less than satisfying secret Santa gift? Consider holding on to your items to re-gift next year or for another occasion. If you choose not to, donate the gift instead of throwing it away.
Donate unwanted items. Donate unwanted gifts to your local Goodwill or to another non-profit within your area. If you received candles, blankets or other gifts of that nature, consider donating them to your local nursing home. Kid's toys can be donated to your local children's hospital.